There's nothing I like more than talking about my favorite books (as my coworkers, husband, and kids will attest to) so I was more than willing to compile a list of my favorite books of 2009. The problem was narrowing it down to just 5. So here it goes…
Angela's Top 5 Books of 2009
5.
Since I am TOTALLY into books with a "Girl Power" theme, I will carry on the cheating tradition of a tie and name these two great books as my number 5:
Hunger Games by Suzanne Collins
In case you've been living under a rock for the last year, this book was on the 2009 Lone Star Book List and is so awesome it is always on reserve and a bit hard to get your hands on at the library. It is the story of Katniss Everdeen and her struggle to survive in a harsh futuristic America. The sequel, Catching Fire is even better than the first book, but I didn't actually read it until 2010 so I can't include it in this list or I SO would. (
previous review
)
Don't Judge a Girl by Her Cover
by Ally Carter
This is the third installment in the Gallagher Girl series about Cammie Morgan and her adventures at an exclusive all-girls school for spies. I love this series because it couples the everyday struggles of being a teen with the additional pressures of living a secret life. What could be more empowering than learning how to disarm a bomb and kick butt at the same time (without being a ninja)?!?! (
previous review
)
4.
The Graveyard Book
by Neil Gaiman
After the tragic murder of his family, Nobody Owens is raised by the ghosts and other occupants (hint: vampire and werewolves) that inhabit the local graveyard. The Graveyard Book was awarded the Newbery Award in 2009 for literary fiction. This story is expressive and at times almost poetic in its writing. But don't let that fool you into thinking that it is at all boring—there's plenty of fantasy and action to keep you turning the pages. This is the first Neil Gaiman book I've read and it definitely makes me want to read more. (
previous review
)
3.
Impossible
by Nancy Werlin
Seventeen year old, Lucy, discovers that her family is the key to an ancient curse. In order to break the curse placed on them by the Elfin King, she must complete three impossible tasks. This book is beautifully written and completely engaging--you will fall in love with the characters. If you're looking for a great story that doesn't include vampires, give this book a try—you won't regret it! (
previous review
)
2.
The Season
by Sarah Maclean
This book is on the 2010 Lone Star Reading List and I barely got it in under the wire having read it in December. The Season follows the lives of three friends as they make their debut into London's aristocratic society—the ton. The characters are believable and likeable (especially the handsome and brooding, Lord Blackmoor). The writing is chalk full of fun bantering between the girls and their beaus. Set during the Regency time period, this book has it all: mystery, humor, romance, and men in knee britches. (
previous review
)
1.
The Outsiders
by S.E. Hinton
The Outsiders is the story of three brothers trying to keep their family together after the death of their parents in 1960's Oklahoma. The plight of the boys as they face social injustice and economic uncertainty weaves a tale of brotherly love that will have you riding a roller coaster of emotions from despair to elation. I saw the movie back when I was in high school but never read the book until this year. And, as usual, the book is better than the movie. This book was originally published in 1967, but the themes are as relevant today as they were then. That alone is the reason that I had to name The Outsiders as my favorite book of 2009—it truly stands the test of time!
Here is the official book AND movie website.
Now, for the books I'm looking forward to most in 2010:
Book 3 The Hunger Games Series
I have to chime in with Amy and Jenny and say that I'm most looking forward to the third book in the Hunger Games Series by Suzanne Collins. I just finished Catching Fire and am so left hanging that I can barely stand it. But I will have to wait until August---ooohhh, the humanity!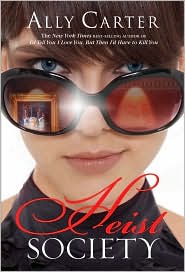 The Heist Society
by Ally Carter
This is a new character and series for Ally Carter and looks to be just as fun and exciting as the Gallagher Girls Series. It is the story about Kat, a girl who is a professional cat burglar. She is going legit and has left her life of crime behind her to enroll in an exclusive private school. But she quickly discovers that her life is not her own when she is forced back into a life of crime by a mobster threatening to kill her father. It is due out February 9th—oooh, just in time for Valentine's Day!
Gone
by
Lisa McMann
This is the third book in the Wake Series. If you haven't read these books, you really should. Janie is cursed with the ability to fall into other people's dreams. This sounds really cool, but can be a terrible burden. Janie and Cabel have found a way to channel this ability in a good way but it just may get them killed. This book also comes out on February 9th—I know what I'll be doing!
Only the Good Spy Young
by Ally Carter
This book is due out June 15th—just in time for some fun in the sun reading! This is the fourth installment of the Gallagher Girl Series. I can't wait to see what dilemma Cammie finds herself in now and see if Zach is back…
Runaway
by Meg Cabot
This is the third book in the
Airhead series
. Em Watts, egghead extraordinaire, has started to adjust to being in the body of a supermodel when she is blindsided yet again. She is kidnapped by the evil Stark Empire and discovers that all is not as it seems. Can't wait to find out how Meg ends this series--she is soooo good at wrapping up loose ends!