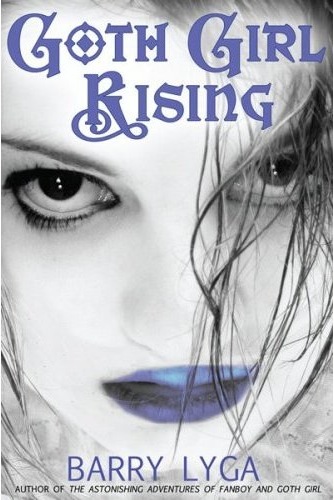 In the long awaited sequel to
The Astonishing Adventures of Fanboy and Goth Girl
, Barry Lyga once again shows us high school life in Brookdale, Maryland. Kyra Sellers (aka Goth Girl) has just spent six months in the Maryland Mental Health Unit. She has returned to school to find that while some things remain the same, Fanboy is totally different. Gone is the self-conscious punching bag and in his place is the popular, cute-in-a-geeky-kind-of-way creator of Schemata. He has sold out by allowing his graphic novel to be printed in the school paper and has betrayed their friendship by making changes to the story without her. If you thought Kyra was angry before, just wait to see what she has planned for Fanboy now.
I just happened to get my hands on an advanced reader copy (ARC) of Goth Girl Rising so all of you Lyga fans out there will have to wait until October 19th to find out what Fanboy's third thing is. I know but I'm not telling!
Fanboy and Goth Girl's website.
More Barry Lyga goodness!
Link to Amazon interview with Barry Lyga
If you love Fanboy and Goth Girl, try these books:
review written by Angela